We are creating a loveable online ERP system.
CO3 offers a comprehensive suite of online business, productivity and collaboration applications. Customers use CO3 to run their business processes, manage their information and be more productive while at the office or on the go, without having to worry about expensive or outdated hardware or software.
CO3 has 8 main features – CRM, Invoicing, Project management, Inventory, Document management, To-do lists, Group Calendar and Email. These main modules can be extended with special add-ons, such as current account or petty cash. CO3 can be integrated with other systems with the help of the API. CO3 can be act as a front-end system as well.
During the development CO3 became a framework and can be used as a "white-label" product. CO3 has already many of it's own brands: Eventrix for special-event management, Házbank.hu for property management, and e-Menedzser.com, in cooperation with Sberbank.
---
Tamas Gal – founder, owner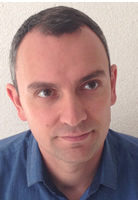 Tamas loves developing applications, building websites. He made his first program codes on a Commodre Plus 4 in Basic at 1989. He was graduated as a software developer and he has an Information Technology engineer diploma. He is making websites since 1999.
A special emphasis of his work is given to the utilization perspectives of new "edge" technologies. He was amongst the first to be concerned with the fields of use for mobile phones and PDAs, web sales of banking services and usability issues of transactional websites in Hungary (internet banking systems, webshops, etc).
tamas.gal@co3app.com | +36 (21) 200 0323
---
Colleagues